Benefits of Hand Coding vs. WYSIWYG Program
WYSIWYG (What you see is what you get)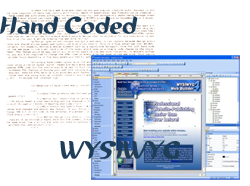 Hand-coding a website and creating art are similar creative acts. Success in either case requires intimate familiarity with tools, depth of experience, and flexibility in creation. A hand coded website shows attention to detail, integrity, and personality unavailable through other means. Almost anyone can crank out a website using a WISWYG program such as DreamWeaver or a dozen other templates, muck like sculpting with an Erector Set.
Hand-coded websites are suited to individuals as well as companies that want a top quality website and value their investment in a professional image. Hand coding does not rely on pre-built templates or WYSIWYG software, so the web designer/developer has ultimate control over the code that structures the website. The layout of the website is constructed with CSS and HTML rather than tables, which allows for a much more flexible design that is suitable for any resolution or monitor size the user might be viewing the website on.
Design updates and changes are quick and easy in CSS layouts because design attributes are shared across pages and controlled from style sheets. This is a huge advantage over WSIWYG software. For example, moving a design element such as a "side bar" from the left hand side of the web page to the right hand side of the page, would require a simple code change in the style sheet. The change would be applied to all affected pages on the website instantly. In WYSIWYG software, you would be required to change the HTML code on every affected page of the website. This job could take hours depending on how many pages you had to update.
Using a hand-coded layout with CSS and HTML provides a great number of advantages over using a tables-based layout. Pages are much more search engine friendly because there is no extraneous HTML code for the search engine spider to sort through in front of the web page content. This increases the chances of having your website ranking highly for your targeted keywords on the search engines. Reduced HTML mark-up also provides much faster download times for all users, but especially those that are using dial-up internet connections or mobile devices (PDA's, Pocket PC's, SmartPhones, etc.) to browse the internet.
Benefits of Hand Coded websites:
Less Code
Small file sizes produce websites that load fast on any type of Internet connection even dial-up.
Better SEO (Search Engine Optimization) Results
Proper html with an external CSS style sheet allows Search Engines to focus on areas of importance without needing to sort through all kinds of meaningless code.
Maintenance and Update Ease
With CSS located in an external style sheet, updates and changes are easier and faster. If you choose to change the color of a link site-wide, you change ONE bit of CSS code in the external style sheet. It is not necessary to scan every html page to find every link.
Better Design Consistency
Consistency throughout the website increases the chances of a more enjoyable experience for the viewer. Since all banners are located in the same place, as well as menu items the visitor's eye doesn't have to relearn how your website works every time they go to a new page. This technique delivers a very professional and visually appealing website to all visitors.
The World Wide Web Consortium or W3C provides many useful tools and information regarding website design standards and practices.For more information about web standards and the latest Web technology please visit World Wide Web Consortium (W3C).